Westcon Academy Is Your One –Stop Shop for Technical Training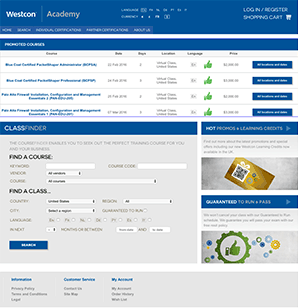 Westcon Academy is your one-stop training resource, providing everything needed to meet diverse training demands. As the channel's preferred learning partner, our mission is to keep you authorized, certified and ahead of the curve.
Log-in to our learning management services portal that gives you visibility into and access to all vendor-training lines across Westcon. You can search courses by keyword, course code, vendor category, course name, training partner, location and date. With user categories, you can easily and quickly map our course offerings to your company's requirements or to your individual needs:
Competency Programs
Individual Certifications
Partner Certifications
Vendors
Get Started Today!