Bring Internet Traffic into Focus with F5
BIG-IP and SSL Everywhere
Much of your customers' Internet traffic is invisible to existing security infrastructure. F5 brings that traffic into focus.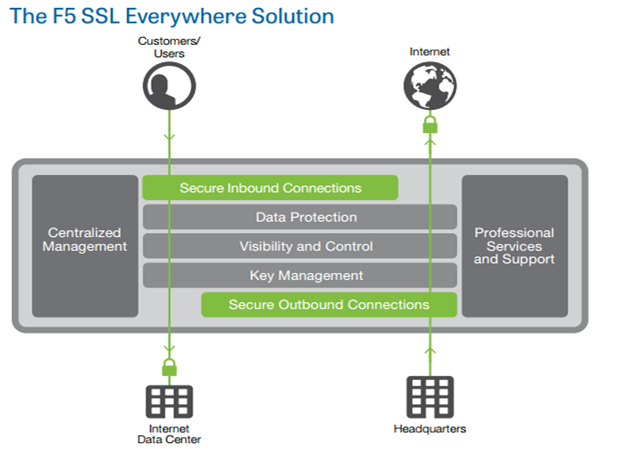 Software Modules
All BIG-IP solutions include either BIG-IP Local Traffic Manager (LTM) or BIG-IP Global Traffic Manager (GTM), providing powerful core functionalities for your customers' application services. To build on those capabilities, F5 offers a range of feature modules users can activate on demand. BIG-IP software modules offer advanced security, performance and availability features, allowing customization of BIG-IP in unique data environments.
Global Traffic Manager
GTM directs users to the nearest data center that will provide the best application experience. Using high-performance DNS services, GTM secures DNS infrastructure from attacks.
Local Traffic Manager
LTM provides intelligent traffic management, ensuring peak application performance and increasing operational efficiency.
Advanced Firewall Manager
AFM inspects traffic entering and leaving the data center, ensuring protection of sensitive data such as Social Security numbers and credit card information.
Secure Web Gateway Services
Paired with F5 Access Policy Manager, Secure Web Gateway Services provide insight and tools to take action and ensure networks are safe from malicious threats.
Access Policy Manager
APM provides valuable insight and policy-based control over who is on the network and what applications they're using.
Application Security Manager
ASM offers an agile, certified web application firewall to protect and optimize all applications with advanced application and location visibility and protection.
WebSafe
The only web fraud solution to provide clientless protection, WebSafe leverages advanced encryption capabilities, malware detection and session behavioral analysis.
IP Intelligence Services
IP Intelligence Services increases data center efficiency by blocking malicious activity at the earliest point.
Enterprise Manager
Enterprise Manager supports all TMOS-enabled devices, so you can take advantage of a single interface for key device administration functions, including centralized analytics, performance monitoring and BIG-IP iHealth integration.
Application Acceleration Manager
AAM speeds up application delivery, controls the growth of bandwidth needs particularly for video, and offloads additional processor-intensive tasks from the server.
DDoS Protection
Protect businesses from even the largest DDoS attacks—over hundreds of gigabits per second—with industry-leading DDoS attack mitigation bandwidth. F5 offers comprehensive DDoS protection on-premises and as a cloud-based service.
Please contact Westcon-Comstor F5 Team for more informations