Partner Enablement Programe
LeverageNetApp'sPartner Enablement Guide for your journey to success with NetApp. This guide provides you with a "New to NetApp" checklist and role-based enablement plans for exactly what you need, when you need it.
Executives
As an executive of a NetApp partner, you can access our product information, training, executive event information, partner development tools, promotions, and more to help your organization be successful with NetApp.
Marketing
Our goal is to provide useful tools and best practices to help you market your organization. Here you will find links to collateral, videos, campaigns, training, and much more.
Sales
We do our bestto make it easy to sell NetApptechnology to your customers. Training, product information, webcasts, events, promotions, and more are available here.
Systems Engineer
As an engineer who focuses on presales, system configuration, and design for selling NetAppsolutions and professional services, you will find helpful information, webcasts, and training in this section. You will also find requirements for accreditations and certifications.
Professional Services Consultant
In this role, your job might be installation and implementation of NetApphardware and software, consultation, assessment, and planning of NetAppsolutions for your customers. Find product information, training, certification information, and much more here.
Support Engineer
As a support engineer, you address customer questions and concerns about NetAppsolutions, and you help your customers troubleshoot technical issues. Find helpful information and links to a curriculum for becoming an expert on NetAppproducts here.
New to NetApp Checklist
Complete within your first 60 days to get started as partner with NetApp
Flexpod
FlexPod is a converged compute, networking, and storage solution developed by Cisco and NetApp. Its solution configurations and workloads are published as Cisco Validated Designs. 
FlexPod is categorized by established, emerging client needs
FlexPod Data Center was developed for large enterprises
FlexPod Express serves small and medium enterprises
FlexPod Select focuses on high-capacity and performance for specialized workloads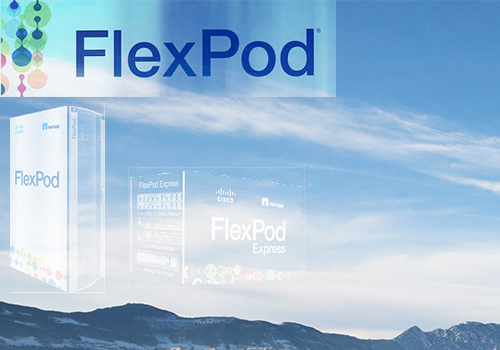 FlexPod components include Cisco Unified Computing System (UCS) servers, NetApp unified storage systems, and Cisco Nexus networking fabric.
The FlexPod architecture can scale up or out, and can be optimized for a variety of mixed workloads in both virtualized and nonvirtualized environments.
Large enterprise data centers need agile platforms with high availability and scalable storage. Along with reducing operating costs, CIOs want to use
a converged infrastructure to support hybrid cloud computing.
Small and medium enterprises need simplified setup and use, interface to public cloud services, and greater value for their data center budgets.
An emerging enterprise trend is the need for purpose-built, high-capacity platforms for specialized workloads. Large-scale, real-time data analytics places
unique demands on compute stacks. Video surveillance, in-memory databases, and public cloud infrastructures have similar capacity profiles. 

FlexPod's architecture can be configured for the growing needs of all these clients. In two short years, FlexPod has delivered value to over 2500 customers
across 35 countries worldwide. Going forward, FlexPod customers and partners want configuration guidance, easy ordering, and validation for the configuration
that is most aligned with their needs