Profit from Our Experience
If you're looking for end-to-end lifecycle services, you've come to the right place.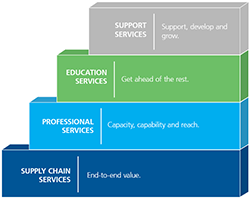 By partnering with us, you can successfully expand your capabilities in delivering comprehensive solutions to end users worldwide. As a Comstor customer, you gain our economies of scale to support even the most challenging projects, deriving value from a growing services portfolio structured to help you build margins, reduce operating costs, and create new revenue streams.
We provide the services required to deliver complete technology solutions, complemented by a comprehensive suite of business-extending services to simplify processes and eliminate costs.
Our experts consult, educate, design, build, operate, manage and reinforce your unique services solutions objectives through premier Supply Chain, Support, Education and Professional Services.
Contact us to profit from the experience of our Services Team in North America.