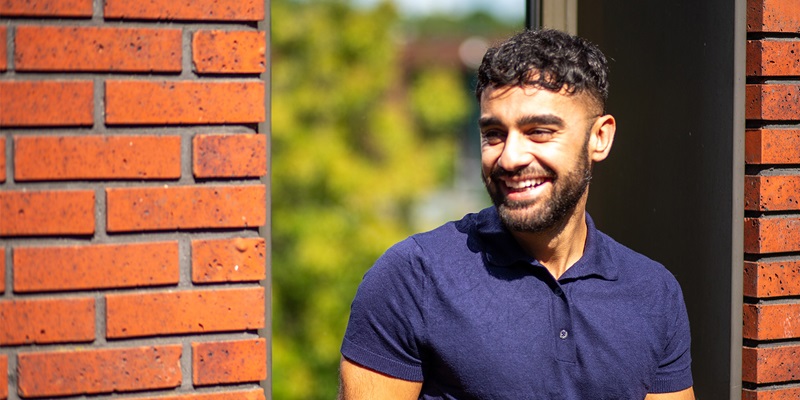 New beginnings: Mustafa Al Sheweily's journey to Partner Success and parenthood
In a heartwarming story of new beginnings, Mustafa Al Sheweily (Business Development Manager) talks to us about how he found a supportive home in Westcon-Comstor, setting him up to start a family for the first time.
Thanks so much for joining us, Mustafa! Tell us a little bit about yourself.
Sure! I'm 27 years old and from the Netherlands (but born in Iraq). At university, I studied International Business and Management, and since then, I've been channelling my energy and motivation into sales and marketing roles.
Before Westcon-Comstor, I worked in consumer electronics, with a focus on smartphone technology and wearables. So, when I came here, most of it was new to me!
So, how did you find settling into Westcon-Comstor?
At the beginning, it was a big adjustment because I'd only ever worked at vendor level, never distributor level. So, most of what I knew how to do was now the opposite way round!

But my manager was a great help in getting me settled in. He explained how I was now sitting at the other side of the table and gave me time to adapt to a new approach to situations. He also gave me the time and room that I needed to get to know the company and its people, instead of getting directly into operations and productivity.

I did a lot of self-study too. My manager recommended some courses to me, encouraging me to complete them at my own pace and to reach out with any questions.

What were you looking for when searching for a new job?
I was looking for a sales position with a balanced need for technical knowledge and insights.
While my background isn't strictly technical, I gained a lot of technical knowledge from talking to customers at my previous employers, and I wanted to elevate that to the next level.
I've always been interested in IT. But every time I got into conversation with a company, it was either too sales-driven or too technical. So yes, I was looking for the right balance, and I got a sense of that straight away when I began talking to Westcon-Comstor.
And nearly one year on, you've had your first child!
Yes! For a long time, my wife and I had been planning to have a baby, but one of the things we wanted to do first was see me get settled at a company I could picture myself at for some years. And that happened!

Very early on, I got a sense of stability and rest at Westcon-Comstor, more than anywhere I'd been before. So this, among other factors, encouraged my wife and I to start a family.
The funny thing is, when I did my job interview here, the recruiter asked whether I had any kids. I told her that we wanted to but that I wanted more stability and balance between my professional and personal life first. Then, a couple of months later, I told her that we were getting ready to have a baby – and she remembered what I said in the interview! She was very happy for us.
What does growth look like for you at Westcon-Comstor?
So, at 27 years old, I don't want to simply be moving horizontally. I set some important goals, and I always want to achieve at least one of them per year at the company I work for.

Fortunately, at Westcon-Comstor, there's constant encouragement and opportunities for growth and advancement. My manager is moving into a slightly different position, which is giving me a route to progress. So, I'm currently taking over his responsibilities in a gradual way.
I've also applied for some IT and sales/product management courses, which the company supports us to do. These are skills I'd like to acquire to grow more into my position and be of more value to the business.
Similarly, managers here will sense if you need more responsibilities to grow and develop. They'll also give you the training and space to talk about it. But at the end of the day, there's no room or time to be lazy or working at 50%. You have to keep on looking up – and given that I'm quite young, that's something I really like.
Find out more about careers at Westcon-Comstor.