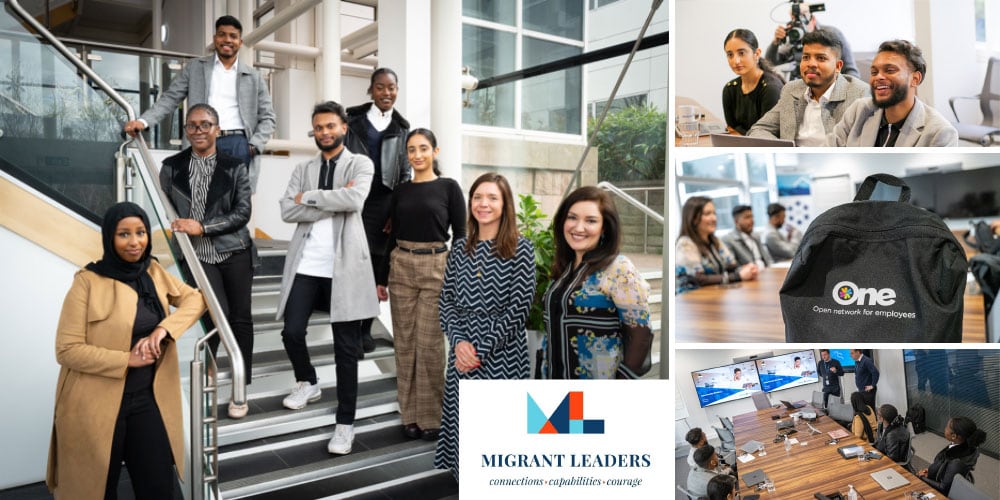 If we're serious about inclusion, we have to start early
The technology industry is growing almost three times faster than the whole economy and it contributes around £200 billion a year to the UK economy alone. However, diversity and inclusion remains a key challenge for the industry, as only 19% of the tech workforce are from BAME backgrounds, with similar numbers across the rest of EMEA. There is a lack of people from a BAME background in the boardroom too, with BAME representation at a director level at 11% in 2018, compared to 29% of 'other' IT specialists.
Why we value diversity and inclusion
When tech companies do hire people from a minority background, they often struggle to retain them, with the technology industry experiencing the highest turnover rate owing to the fierce competition for talent. This is a key area where being a diverse and inclusive employer comes into play. By creating an environment where people feel valued, included, respected and fulfilled, you are much more likely to retain your best people.
Inclusion drives innovation
As well as attracting and retaining talent, we believe inclusion is at the core of innovation and partner success. Diversity and inclusion brings new ideas and different approaches to solve problems, especially in the fast-paced technology world where new ways of thinking about business opportunities, partner engagement and customer expectations are always needed. And as a global business, it's also critical that we reflect the culture and values of every partner and customer in all our markets.
Getting in at the start
Companies in every industry are struggling to find candidates that can transform their business, but the skills gap in the technology industry is especially acute. Ongoing training can help existing employees to upskill, but the talent shortage needs to be addressed earlier in the recruitment stage – when young people are at school or college.
To ensure a steady flow of future talent, young people need to be made aware at an early age of the possibilities that tech skills can bring – and not just within the technology industry itself. In sports, for example, 76% of business leaders say that cyber security is a top priority. In media and marketing, 66% of business leaders say that coding is an important skill.
It's more than coding
Tech is not all about complex algorithms and programming. There are plenty of roles for people who don't know how to code, from sales and marketing to operations, support, finance and data analysis. Whatever your area of interest or skillset, there's an exciting career path for everyone in technology. All you need to succeed is drive and curiosity.
Ensuring equal opportunities
At Westcon-Comstor, we recognise how providing educational opportunities to young, disadvantaged and under-represented groups can increase diversity and plug the skills gap. But we also understand that not everyone has had the same start or opportunities in life.
That's why we've partnered with Migrant Leaders, a UK-based charity supporting 1st and 2nd generation young migrants to help them reach their true career potential. Part of the collaboration was a packed 3-day programme of inspiring talks, interactive sessions and live demos for a group of young interns to give them an insight into the IT industry, our business, and the many opportunities and career paths available to them.
We also wanted to show that careers in technology can be fun and fulfilling. A big part of any tech job involves helping people. Whether you're working in sales or support to solve everyday challenges, or developing solutions behind the scenes, a big part of your role in technology is making other people's lives easier.
Something for everyone
A tech career offers incredible opportunities for young people of all backgrounds, particularly members of Gen-Z who have grown up with technology as part of their daily lives. We firmly believe that all bright young people, regardless of background, should have equal access to these opportunities in the thriving tech industry, and our partnership with Migrant Leaders is a really important and exciting step.
Commenting on the programme, Elham Farhad, Found & CEO of Migrant Leaders, said: "All our interns thoroughly enjoyed the experience and felt incredibly welcomed by the whole team. Over the three days I watched them open up, grow in confidence and really start to think about how they could bring their values, education, strengths and capabilities to an international business like Westcon-Comstor."
One of the most rewarding aspects of supporting our local communities like this is the impact it has on the individuals themselves. It was a real pleasure to host the interns and their enthusiasm and engagement was inspiring: "I enjoyed every moment and loved learning about the company and what everyone does. It gave me a new perspective on the various roles, and much to explore in the future to find my ideal career role. The warm welcome we received made it an unforgettable experience." Kishaan Thurai, Migrant Leader intern
Ready for a career in a dynamic global technology business? Check our Careers page for the latest roles and be ready to make a difference.