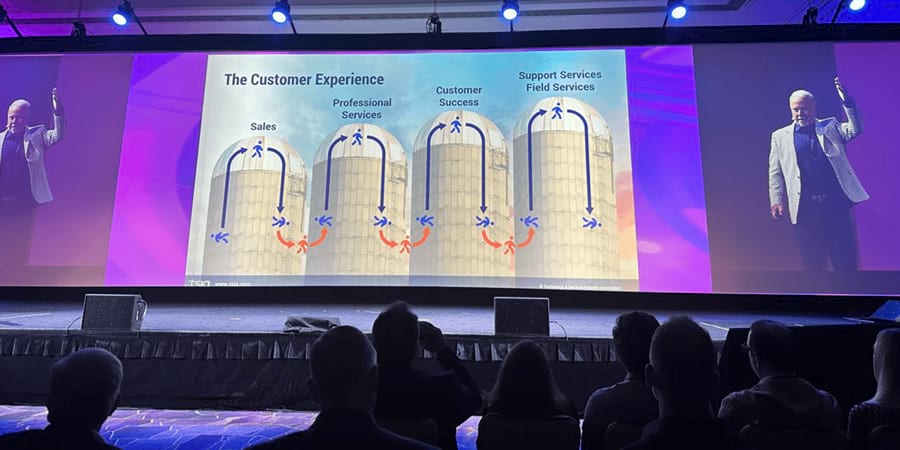 My insights from the TSIA World Envision Conference
After three days of excellent content focusing on the current challenges in the IT industry and the wider technology sector at the TSIA World Envision Conference, here's what I found to be the most pressing topics in our sector.
It was an excellent opportunity to validate the Westcon-Comstor strategy and reinforce that our digital transformation journey is going the right way; for the benefit of the channel. It's clear to see why more vendors and partners recognise Westcon-Comstor as the leading value-added technology distributor.
Digital trends 2023 – State of the tech nation
Tech firms aren't growing at the rate they were. This creates pressure on profitability and market valuations. This is also seen in the private equity (PE) markets. PE firms experience much longer ROI cycles for their investment, with some cycles lasting up to 10 years. The average is now 6-8 years.
This pain gets leaders to 'lean in'
Nothing focuses the mind and attention at the C-Level than organisational pain. Examples like declining margin or ever-increasing costs always get the focus. TSIA see two emerging management approaches. Those that 'lean in,' transform and respond to the disruptive forces or those that don't. Individuals will clearly be attracted to those companies and leadership teams that build transformation into their company DNA.
Digital transformation challenges
Whether it's transforming to subscription and recurring revenue streams, digital transformation, AI or even quantum computing, the ability of organisations to change and constantly evolve is going to be one of the largest factors of success. The question we must reflect on;
How do we measure and manage transformation?
How good is our company at change in a market where transformation is never-ending?
What does our ongoing digital transformation strategy look like?
Adaptive culture is the future
For many years, people have argued that 'culture eats strategy for breakfast,' in the new hybrid working world, organisations appear threatened and are fighting to protect their historic workplace culture. To the same effect, organisations can't continue to state, 'it's not in our DNA' or 'the culture of the company is holding the business back'. Organisations must move to an adaptive culture position to empower transformation. We were challenged at the event to take a new perspective when decision making; being challenged to reflect on the following question:
How would the customer feel about that decision?
Data utilisation is a key to success
Every company must move to a position of making informed decisions by using data. Organisations that continue failing to use their data or wait for perfection will be impeded. J.B. Wood compared the use of data in organisations to a supermarket analogy, data needs to be readily available on the shelf, with employees having the ability to pick and choose the data at the point of need.
Organisations need to move away from fixed dashboards and stop the argument of the data not being correct. The use of AI will further accelerate the use of data and become a barrier for any firm that cannot address this.
Data in turn will feed AI and this will be used to dictate the workflow and organisational play. The play will be used to set clear tasks for the company to ensure a consistent approach to maximise success. The business needs to validate that the play works.
AI will be a major disruptive force – ignore it at your peril
Organisations will fall behind faster than ever before. The use case of AI can be internally and externally focused, from cost optimisation or new revenue generation in the market, both will demonstrate an opportunity for increased profitability. Whose stock would you rather own, those first movers who embrace AI or those laggards who don't?
The event validates several topics for me that I'm passionate about, after speaking with vendors, partners and industry experts alike, our continued evolution and focus on the right things, will only lead to success. So there it is, my key takeaways. And by the way, none of this was produced by AI, it was written by me in the airport, while I was waiting for my 24-hour commute back home!