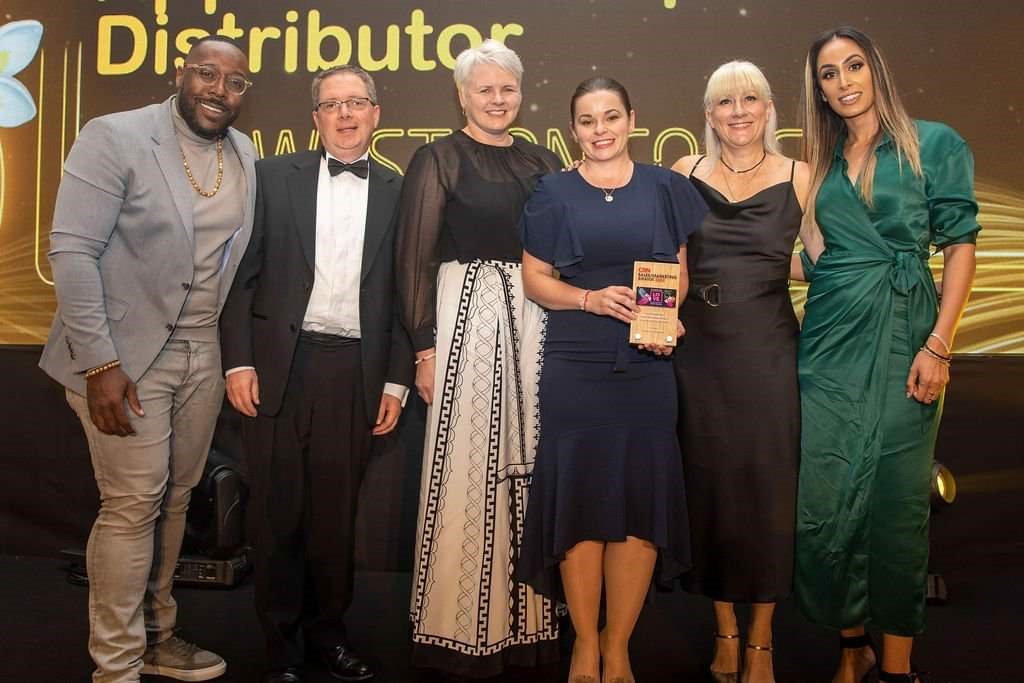 Award-Winning Apprenticeship Program: How we're helping young career-starters
At Westcon-Comstor, apprenticeships are a core part of our hiring strategy, which makes this award win so much more meaningful. The tech industry is suffering one of the largest talent shortages it's ever seen. For young people, work is also harder to find with fewer 16–24-year-olds in employment than there was pre-pandemic.

Apprenticeships offer a joint opportunity for us and our candidates because, by becoming an apprentice with us, our candidates have the chance to take a step into the tech industry and we get to build a workforce in areas where we have the most need. It's a win-win for both of us.
About our apprenticeship programme
Our apprenticeship programme in the UK is run in partnership with a government approved specialist, Global Knowledge Apprenticeships (GK), who we've worked with for over six years. We give an outline of who we're looking for and how we'll assess them, and GK sources our candidates.
Over the course of 15 months our candidates complete various pieces of coursework giving them the theory behind what they do day-to-day, helping them build capabilities and immediately put them to use. The programme then closes with a series of exams which results in them achieving the equivalent certification to an A level. Armed with their certification and broad experience, they have many new career opportunities to explore. The end goal of our programme is permanent employment for our apprentices.
How we built a programme our apprentices love
Our management team are actively involved in every step of our apprentice's journey. From taking part in activities on apprentice assessment days, to guiding them throughout their time at Westcon-Comstor, our management team is right alongside our apprentices all the way through to when they get the offer to become a permanent part of our team.
Our apprenticeship programme is unique
At Westcon-Comstor, we pride ourselves on our culture. We've worked hard to encourage diversity and inclusion among our team and incorporate this thinking into our company values. We reflect this in our hiring policies, particularly with our apprenticeship scheme and early career programmes where we work to give equal opportunity to as many young women from various economic, educational, and racial backgrounds as possible.
We also have a multitude of internal programmes to encourage diversity and inclusion. An example of this is our ONE Westcon initiative, which aims to embed principles of diversity and inclusion in our culture. At the end of 2020, we also launched ERGs (Employee Resource Groups) to raise awareness and support for areas relating to race, heritage, gender and gender identity, sexuality, and disability in a safe space.
Our early career programmes are available worldwide
We partner with GK Apprentices in the UK, and we have a number of early career development programmes available in other regions across the world.
In South Africa, we run bursary and learnership programmes that provide education and practical work experience opportunities for previously disadvantaged youth. We also have a partnership with the University of Johannesburg where we sponsor top performing black, female students who are studying towards a degree in Information technology with the goal of offering them permanent employment at Westcon-Comstor once they've completed their degrees.
In Spain, we run the Level Up programme which gives new entrants an opportunity to jump into the world of technology. Opportunities include earn-as-you-learn apprenticeships, with the possibility of permanent employment.
Regardless of where our programmes are based, our goals are the same: to help young people get equal opportunities to the education and training they need to start successful careers, and to help our industry plug the skills gaps we so desperately need in today's changing environment.
Our third award win speaks volumes
Since the start of our apprenticeship programme in the UK, 76% of our apprentices have been permanently employed at Westcon-Comstor. This, together with industry recognition for our programme, reflects how important our apprenticeship programme is, and how successful it is with favourable outcomes for both candidates and us as a business.
We're extremely proud of this award and we look forward to welcoming new candidates to the Westcon-Comstor team.
For more info on our apprenticeship programme, stay tuned to GK Apprenticeships to see when our next cohort begins or read more about our careers at Westcon-Comstor.
Find out how you can be part of our Apprenticeship Programme